Famous Leadership Quotes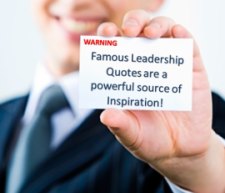 What makes a great leader? Could famous leadership quotes be a part of it?
In everyday life and in all we do, do we need good leaders?
Leaders demonstrate many attributes, courage and creativity to name a few.
Strong leaders are the success to any project regardless of what it is.
Over the years there have been numerous famous leaders. These leaders have led countries, businesses and even people. There are many things these famous leaders are remembered for; namely one being the Famous Leadership quotes they have coined over the years. When looking at some of these quotes, it's remarkable that even a few spoken words have made such an impact on the world. Some of these quotes were made hundreds of years ago and are still relevant and remembered today. Many leaders today live by these famous quotes.
As Benjamin Disraeli once said, "The wisdom of the wise and the experience of the ages may be preserved by quotation." So let's take a look at some of these famous quotes.
"If your actions inspire others to dream more, learn more, do more and become more, you are a leader." This is a quote from John Quincy Adams. This quote will go to say that anyone can become a leader. In many ways every day our actions inspire others. Whether you are a teacher, mother, volunteer or nurse you can be a leader as well.


"He that cannot obey cannot command." Here is a quote from the famous Benjamin Franklin, quoted from many years ago. Yet this quote still stands true today and I am sure always will.


"I start with the premise that the function of leadership is to produce more leaders, not more followers." This famous leadership quote was from Ralph Nader. I like this one as well.


"Don't tell people how to do things, tell them what to do and let them surprise you with their results." George S. Patton was quoted as saying this. Again a true leader should have faith in the people they are leading. Faith in letting them reach their potential and possibly becoming a leader themselves.



"A good leader inspires people to have confidence in the leader; a great leader inspires people to have confidence in themselves." Eleanor Roosevelt spoke this famous leadership quote. As much as a leader wants those following to have confidence in them, it is said to be a good leader is to let those following see the potential in themselves.
And a few of my own, which I'm pretty certain have been mentioned before:
A true leader is looking to produce other leaders and sees the potential in every person to be a leader.


To be a good leader you need to be a good listener and follower as well.


To learn to lead properly one needs to know how to be led.
Now all of the above were great leaders in their time. They each had a vision and shared that vision. They led and as shown by their quotes made an impact on our history. So perhaps to be a good leader, we may want to study these quotes. It might help us who inspire to be great leaders, regardless of what we want to lead. By contemplating these famous leader's quotes it may inspire us to become leaders as well.
Share your famous leadership quote with us, and let us know how that quote motivates you!
Share your thoughts
Leaders are constantly seeking to exchange their knowledge, because that's how we increase our leadership skills.
What Other Leaders Have Said
Click below to see contributions from other leaders to this page...